Recherche

Connectez-vous pour noter cette série.
Genre :
Comédie / Sitcom
Aventure
Animation
Sortie en
2017
- Statut :
En cours

Dernier épisode : 1x20 - A été diffusé le 22/05/2017
Prochain épisode : 1x21 - Sera diffusé le 29/05/2017
Akko Kagari is an ordinary girl who joins the renowned witch academy for witch girls, Luna Nova Academy. When she was younger, she went to Magical Festa, a magic show hosted by a witch named Shiny Chariot. Akko was so mesmerized and inspired by Shiny Chariot's performance that she dreamed to someday be a "cool" witch like her. This young and impressionable Akko takes Shiny Chariot's words as her own motto: "Never forget, a believing heart is your magic."
Site officiel
:
Site Officiel
Liens
:
TheTVDB
themoviedb.org
TVMAZE
Casting :





Réalisateurs :

Scénaristes :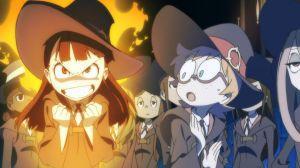 Saison 1
Special

Cette fiche a été vue 385 fois depuis le 19/04/2017
Dernière mise à jour de cette fiche le 27/05/2017 à 03:15