Chercher

Connectez-vous pour noter cette série.
Genre :
Drama
Policier / Enquête
Mystère
Sortie en
2017
- Statut :
Nouvelle série

Dernier épisode : 1x05 - A été diffusé le 17/09/2017
Audiences :
(200,
198
196
194
192
190
188
186
184
182
180
181,
182
183
184
185
186
187
188
189
190
191
187,
187
187
187
187
187
187
187
187
187
187
188),
La série suit les enquêtes menées à Londres par le détective privé Cormoran Strike et sa jeune secrétaire et associée Robin Ellacot. D'après les romans policiers The Cuckoo's Calling (L'Appel du coucou), The Silkworm (Le Ver à soie) et Career of Evil (La Carrière du ma)l de Robert Galbraith (pseudonyme de J.K. Rowling).
Sujets de discussions :
News :
Posté par
Caféine
à 12:07 le 31/08/2017
Les 2 épisodes de The Silkworm seront diffusés à la suite des 3 épisodes de The Cuckoo's Calling.Les 2 épisodes de Career of Evil seront diffusés plus tard (en 2018).

• Are any other Cormoran Strike novels being adapted?- Yes. The Silkworm and Career of Evil have already been adapted into two two-part stories.The Silkworm, which sees Strike and Ellacott investigate the disappearance of a controversial author, will be broadcast straight after The Cuckoo's Calling.Career of Evil, which sees Strike being targeted by a figure with a grudge from his past, will be broadcast at a later date.• Are there more Cormoran Strike books on the way?- Yes. JK Rowling has said she has ideas for several more stories. Four months ago she revealed that the title of the fourth book will be Lethal White.She's also told me that the story will pick up straight after a crucial event at the very end of Career of Evil.

Vidéos :
Vidéo postée par
Caféine
et associée par
Caféine
Casting :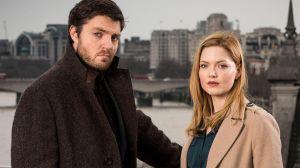 Saison 1
Special

Cette fiche a été vue 2846 fois depuis le 23/08/2017
Dernière mise à jour de cette fiche le 14/11/2017 à 13:40