Chercher

Connectez-vous pour noter cette série.
Sortie en
2018
- Statut :
Nouvelle série

Dernier épisode : 1x02 - A été diffusé le 17/01/2018
Prochain épisode : 1x03 - Sera diffusé le 24/01/2018
Bafta-winner Jack Thorne's powerful and compelling new four-part drama about a young black girl Kiri, due to be adopted by a white foster family, who is abducted - and the trail of lies, blame, guilt and notoriety that follows. Sarah Lancashire stars as experienced, no-nonsense social worker Miriam. Also starring Lucian Msamati as Kiri's birth grandfather Tobi, and Lia Williams as foster mother Alice.
Site officiel
:
Site Officiel
Liens
:
TheTVDB
themoviedb.org
TVMAZE

Casting :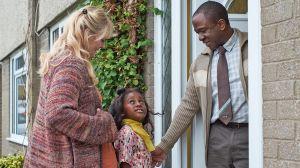 Cette fiche a été vue 276 fois depuis le 11/01/2018
Dernière mise à jour de cette fiche le 16/01/2018 à 10:15