Chercher

Connectez-vous pour noter cette série.
Genre :
Drama
Policier / Enquête
Médical
Mystère
Sortie en
2013
- Statut :
Terminée/Annulée

Dernier épisode : 5x08 - A été diffusé le 05/11/2017
Accompanied by haunting memories of his service time in World War II, Dr Lucian Blake returns home to Australia after 30 years to take over his deceased father's medical practice. As he deals with his own personal loss and changed by his war experiences, the wry, personable doctor performs his other role as police surgeon with gusto. His unconventional and unpredictable manner unnerve some, but it becomes clear Dr Blake is ahead of his time in his use of forensic science, and in his own understanding of the human heart, to help solve murder mysteries in the country town of Ballarat.
Site officiel
:
Site Officiel
Liens
:
TheTVDB
TVRage
themoviedb.org
TVMAZE

Casting :





Guest stars :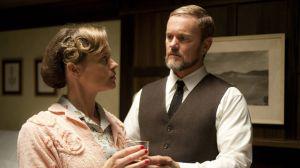 SÉRIE TERMINÉE
Saison 5
Saison 4
Saison 3

Saison 2

Saison 1

Special

Cette fiche a été vue 9415 fois depuis le 02/02/2013
Dernière mise à jour de cette fiche le 13/11/2017 à 01:52