Recherche

Connectez-vous pour noter cette série.
Sortie en
1986
- Statut :
Renouvelée

Dernier épisode : 31x32 - A été diffusé le 22/04/2017
Casualty is a weekly television show broadcast on BBC One, and the longest running emergency medical drama television series in the world. Created by Jeremy Brock and Paul Unwin, it was first broadcast on 6 September 1986 and transmitted in the UK on BBC One. The producer was Geraint Morris. The programme is based around the fictional Holby City Hospital and focuses on the staff and patients of the hospital's Accident and Emergency Department.
Site officiel
:
Site Officiel
Liens
:
TheTVDB
TVRage
themoviedb.org
TVMAZE
Casting :
Réalisateurs :

Scénaristes :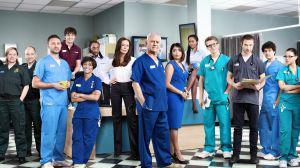 Saison 31
Saison 30
Saison 29

Saison 28

Saison 27

Saison 26

Saison 25

Saison 24

Saison 23

Saison 22

Saison 21

Saison 20

Saison 19

Saison 18

Saison 17

Saison 16

Saison 15

Saison 14

Saison 13

Saison 12

Saison 11