Chercher

Connectez-vous pour noter cette série.
Sortie en
2005
- Statut :
Renouvelée

Dernier épisode : 20x06 - A été diffusé le 20/06/2017
Prochain épisode : 20x07 - Sera diffusé le 27/06/2017
A comedy panel game hosted by Jimmy Carr with team captains Rob Beckett and Aisling Bea. The teams are asked questions relating to opinion polls and statistics based on the week's news.
Site officiel
:
Site Officiel
Liens
:
TheTVDB
TVRage
themoviedb.org
TVMAZE
Casting :




Guest stars :

Réalisateurs :

Scénaristes :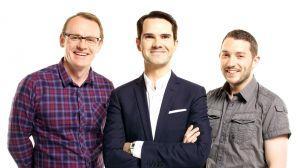 Saison 20
Saison 19
Saison 18

Saison 17

Saison 16

Saison 15

Saison 14

Saison 13

Saison 12

Saison 11

Saison 10

Saison 9

Saison 8

Saison 7

Saison 6

Saison 5

Saison 4

Saison 3

Saison 2

Saison 1

Special

Cette fiche a été vue 3438 fois depuis le 04/05/2014
Dernière mise à jour de cette fiche le 26/06/2017 à 15:13