Chercher

Connectez-vous pour noter cette série.
Genre :
Comédie / Sitcom
Télé-réalité
Jeu
Dernier épisode : 2019x443 - A été diffusé le 17/03/2019
Prochain épisode : 2019x444 - Sera diffusé le 24/03/2019
Running Man is a South Korean variety show; first aired on July 11, 2010. This show is classified as an "urban action variety"; a never-before-seen new genre of variety shows. The MCs and guests complete missions in a landmark to win the race. It has garnered attention as being the come-back program for Yoo Jae-suk, the main MC of the program, after leaving Good Sunday's Family Outing in February 2010.
Site officiel
:
sbs.kr/Running Man
Liens
:




Casting :

Ace / Blank Ji Hyo / Monday Girlfriend :




Guest stars :

Réalisateurs :

Scénaristes :

Classement dans Le Top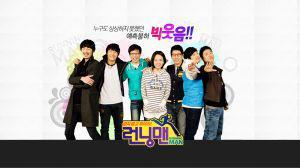 Saison 2019
Saison 2018
Saison 2017

Saison 2016

Saison 2015

Saison 2014

Saison 2013

Saison 2012

Saison 2011

Saison 2010

Spécial

Cette fiche a été vue 7143 fois depuis le 28/05/2014
Dernière mise à jour de cette fiche le 20/03/2019 à 16:21
Dernière modification manuelle de cette fiche le 06/01/2019 à 17:53 par
Caféine
-
Historique des modifications