Chercher

Connectez-vous pour noter cette série.
Genre :
Famille
Télé-réalité
Sport
Dernier épisode : 8x06 - A été diffusé le 19/03/2019
Prochain épisode : 8x07 - Sera diffusé le 26/03/2019
Saison 7 : "saison 11" en incluant les 4 saisons de American Chopper: Senior vs Junior
Saison 8 : aka "saison 12"
American Chopper profiles the lives of New York natives Paul Teutul Sr. and son Paul Jr. of Orange County Choppers (OCC), creators of the world's most outrageous custom motorcycles. Follow the day-to-day drama of this volatile father and son team as they battle impossible deadlines and each other to push the envelope of motorcycle design and fabrication.
Site officiel
:
Site Officiel
Liens
:




Casting :



Guest stars :

Classement dans Le Top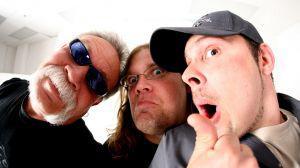 Saison 11
Saison 8
Saison 7

Saison 6

Saison 5

Saison 4

Saison 3

Saison 2

Saison 1

Spécial

Cette fiche a été vue 2153 fois depuis le 18/08/2014
Dernière mise à jour de cette fiche le 20/03/2019 à 13:04
Dernière modification manuelle de cette fiche le 07/03/2019 à 01:26 par
Caféine
-
Historique des modifications