Chercher

Connectez-vous pour noter cette série.
Dernier épisode : 12x08 - A été diffusé le 18/01/2019
Saison 12 : 8 épisodes + 2 Specials (24 & 31 janvier)
Saison 13 : commandée
A comedic panel show featuring team captains Lee Mack and David Mitchell plus two guests per side. The host since 2009 is Rob Brydon, who was preceded by Angus Deayton in the first two seasons. Each person must reveal embarrassing facts and outrageous lies during a series of different rounds including "Home Truths", "This Is My..." and "Quick-fire Lies". It is up to the opposing team to tell tall tales from fantastic facts.
Site officiel
:
bbc/Would I Lie to You?
Liens
:




comedy.co.uk
Casting :
Guest stars :

Réalisateurs :

Scénaristes :

Classement dans Le Top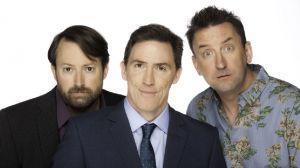 Saison 12
Saison 11
Saison 10

Saison 9

Saison 8

Saison 7

Saison 6

Saison 5

Saison 4

Saison 3

Saison 2

Saison 1

Spécial

Cette fiche a été vue 2673 fois depuis le 13/08/2015
Dernière mise à jour de cette fiche le 03/02/2019 à 17:58
Dernière modification manuelle de cette fiche le 02/02/2019 à 15:33 par
Caféine
-
Historique des modifications