Chercher

Connectez-vous pour noter cette série.
Genre :
SF / Fantastique
Animation
Sortie en
2016
- Statut :
En cours

Dernier épisode : 1x41 - A été diffusé le 21/10/2017
Prochain épisode : 1x42 - Sera diffusé le 28/10/2017
The Justice League is back, "with lightning-paced action and heroics." This show will be including everyone: Superman. Batman, Wonder Woman, Hawkman, Green Arrow, Zatanna, Shazam, the Flash, Blue Beetle, Plastic man, Martian Manhunter, Lobo, Zatanna, the Demon, Dr. Fate and fan favorites like Harley Quinn and many more. Justice League Action, will also reunite the Batman Animated Series voice talents of Kevin Conroy as the Batman and Mark Hamill as the Joker.
Liens
:
TheTVDB
themoviedb.org
TVMAZE
Casting :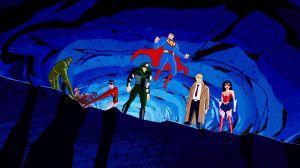 Saison 1
Special

Cette fiche a été vue 5402 fois depuis le 17/12/2016
Dernière mise à jour de cette fiche le 21/10/2017 à 22:43