Chercher

Connectez-vous pour noter cette série.
Dernier épisode : 16x05 - A été diffusé le 22/02/2019
Prochain épisode : 16x06 - Sera diffusé le 01/03/2019
Saison 16 : 10 épisodes
After winning plaudits and critical acclaim for their show during the Paralympic Games, comedian Adam Hills and regular panellists Josh Widdicombe and Alex Brooker return to provide a comic review of the significant moments of the past seven days. There will also be live studio challenges and recorded segments each week, including Alex's quest to participate in the Rio Paralympics in 2016.
Site officiel
:
Site Officiel
Liens
:




comedy.co.uk
Casting :
Guest stars :

Réalisateurs :

Scénaristes :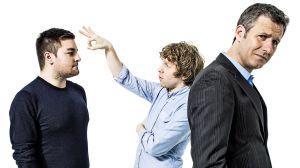 Saison 16
Saison 15
Saison 14

Saison 13

Saison 12

Saison 11

Saison 10

Saison 9

Saison 8

Saison 7

Saison 6

Saison 5

Saison 4

Saison 3

Saison 2

Saison 1

Spécial

Cette fiche a été vue 1449 fois depuis le 14/05/2017
Dernière mise à jour de cette fiche le 20/02/2019 à 12:52
Dernière modification manuelle de cette fiche le 25/01/2019 à 12:37 par
Caféine
-
Historique des modifications