Chercher

Connectez-vous pour noter cette série.
Dernier épisode : 6x10 - A été diffusé le 06/04/2018
Crazy true stories. Crazy funny comics. This Is Not Happening, features Shaffir and his comedian friends telling hilarious and true stories in front of a live audience at Cheetahs in Hollywood. These comedians' incredible stories prove that there is nothing as crazy as the truth.
Site officiel
:
cc.com/this-is-not-happening
Liens
:



Vidéos :
Casting :


Guest stars :

Réalisateurs :

Scénaristes :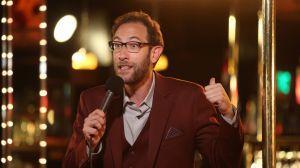 Saison 6
Saison 5
Saison 4

Saison 3

Saison 2

Saison 1

Spécial

Cette fiche a été vue 1130 fois depuis le 25/05/2017
Dernière mise à jour de cette fiche le 06/04/2018 à 23:52
Dernière modification manuelle de cette fiche le 08/04/2018 à 19:01 par
Caféine
-
Historique des modifications