Chercher

Connectez-vous pour noter cette série.
Dernier épisode : 13x24 - A été diffusé le 19/09/2018
Prochain épisode : 14x01 - Sera diffusé le 28/05/2019
Saison 14 : le 28 mai
NBC is scouring the country in search of the most talented people in America. Tyra Banks is the host. Howie Mandel, Heidi Klum, Mel B, and creator and executive producer Simon Cowell serve as judges. The grand prize winner will win one million dollars.
Site officiel
:
nbc.com/americas-got-talent
Liens
:



Casting :




Guest stars :

Réalisateurs :

Scénaristes :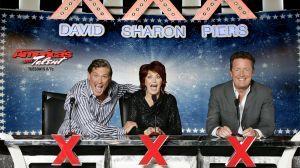 Saison 14
Saison 13
Saison 12

Saison 11

Saison 10

Saison 9

Saison 8

Saison 7

Saison 6

Saison 5

Saison 4

Saison 3

Saison 2

Saison 1

Spécial

Cette fiche a été vue 525 fois depuis le 01/10/2017
Dernière mise à jour de cette fiche le 20/03/2019 à 08:55
Dernière modification manuelle de cette fiche le 05/09/2018 à 13:58 par
Caféine
-
Historique des modifications