Chercher

Connectez-vous pour noter cette série.
Genre :
Télé-réalité
Documentaire
Dernier épisode : 14x02 - A été diffusé le 13/02/2019
Prochain épisode : 14x03 - Sera diffusé le 27/02/2019
Saison 13 : 13 épisodes
Twin brothers Jonathan and Drew Scott aim to help couples find fixer-uppers and transform them into dream homes. The brothers use state-of-the-art imagery programs to unveil their plans for how the properties will look after the transformation. But the potential home buyers have to take a risk to make the twins' vision come true, and it's up to Jonathan and Drew to convince the couples that purchasing an older home in need of work is the best option.
Site officiel
:
hgtv/property-brothers
Netflix
Liens
:




Casting :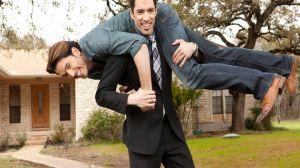 Saison 14
Saison 13
Saison 12

Saison 11

Saison 10

Saison 9

Saison 8

Saison 7

Saison 6

Saison 5

Saison 4

Saison 3

Saison 2

Saison 1

Spécial

Cette fiche a été vue 71 fois depuis le 27/01/2019
Dernière mise à jour de cette fiche le 18/02/2019 à 19:25
Dernière modification manuelle de cette fiche le 27/01/2019 à 19:23 par
Caféine
-
Historique des modifications