Search

You have to be logged to rate this tvshow
Genre:
Dramedy
SF / Fantastic
Mini-serie
Last episode : 1x06 - Aired on 2019-05-30
The End of the World is coming, which means a fussy Angel and a loose-living Demon who've become overly fond of life on Earth are forced to form an unlikely alliance to stop Armageddon. But they have lost the Antichrist, an 11-year-old boy unaware he's meant to bring upon the end of days, forcing them to embark on an adventure to find him and save the world before it's too late.
Official website
:
Amazon Prime Video
Links
:


Videos:
Good Omens: Lockdown Made on the 30th Anniversary of the original publication of Good Omens.
Display more videos

Casting:




Directors:

Writers:

Position in the Top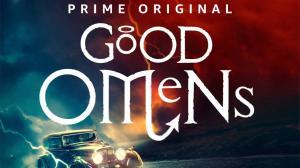 ENDED TV SHOW
Season 1
Special

This page has been seen 4660 times since the 2017-08-19
Last update of this page on 2020-05-27 at 21:45
Last manual modification on 2019-02-14 at 03:07 by
Caféine
-
Modifications history