Recherche

Connectez-vous pour noter cette série.
Sortie en
2001
- Statut :
Renouvelée

Dernier épisode : 10x10 - A été diffusé le 28/03/2016
Prochain épisode : 11x01 - Sera diffusé le 31/03/2017
Ricky and Julian are two guys whose lives were shaped by their experiences growing up in the Trailer Park. Their childhood was typical of most trailer park kids - stealing, fighting, smoking, drinking, scamming and listening to Van Halen. The Boys have had their share of trouble with the law and spend a large portion of their adult lives behind bars.
Site officiel
:
Site Officiel
Liens
:
TheTVDB
TVRage
themoviedb.org
TVMAZE
Casting :



Guest stars :

Réalisateurs :

Scénaristes :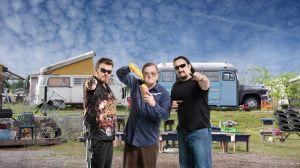 Saison 11
Saison 10
Saison 9

Saison 8

Saison 7

Saison 6

Saison 5

Saison 4

Saison 3

Saison 2

Saison 1

Special

Cette fiche a été vue 3242 fois depuis le 29/03/2013
Dernière mise à jour de cette fiche le 25/03/2017 à 20:59