Chercher

Connectez-vous pour noter cette série.
Sortie en
2014
- Statut :
En cours

Dernier épisode : 4x02 - A été diffusé le 20/09/2017
Prochain épisode : 4x03 - Sera diffusé le 27/09/2017
Ilana et Abbi, toutes deux new-yorkaises féministes juives auto-proclamées, bien que frivoles et insouciantes, n'ont jamais de chance en amour. Ilana, hédoniste, cherche à travailler le moins possible, et Abbi persévère dans une carrière dans l'illustration. La belle vie ? Tout est relatif...
Site officiel
:
Site Officiel
Liens
:
TheTVDB
TVRage
themoviedb.org
TVMAZE
Body by Trey (cf. épisode 202)
Sujets de discussions :
News :
Posté par
☺
à 08:44 le 26/07/2017
Changement de date pour
Broad City
qui arrive plus tard. (Avec les Better Things, One Mississippi et Bojack Horseman)

<blockquote class="twitter-video" data-lang="fr]

There was only one origin story that mattered at #SDCC2017. get ready for the whole damn thang on Sept. 13 &#55357;&#56431; &#55357;&#56967; pic.twitter.com/HEQ63Xcihl

— Broad City (@broadcity) 24 juillet 2017

Posté par
☺
à 09:54 le 23/12/2016
La S01 de
Broad City
arrive sur MTV France le 07 Janvier 2017. C'est la seule saison non dispo en ST de qualité, mais j'me demande si MTV France diffuse en VM.


Casting :





Guest stars :

Réalisateurs :

Scénaristes :

Classement dans Le Top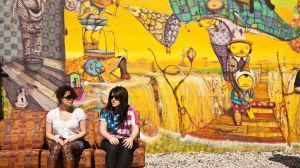 Saison 4
Saison 3
Saison 2

Saison 1

Special

Cette fiche a été vue 12627 fois depuis le 01/01/2014
Dernière mise à jour de cette fiche le 20/09/2017 à 10:18