Chercher

Connectez-vous pour noter cette série.
Dernier épisode : 4x07 - A été diffusé le 09/11/2017
Writer, director and comedian Nathan Fielder (CBC's "This Hour Has 22 Minutes'') also has a business degree, and he combines that knowledge with his unusual life experiences to help struggling small businesses boost their sales. However, Fielder's marketing campaigns for each business can best be described as unorthodox, to the point where no traditional sales consultant would ever attempt what he does.
Liens
:
TheTVDB
themoviedb.org
TVMAZE

Vidéos :
Saison 4
Trailer saison 4
Vidéo associée par
Caféine
Casting :
Guest stars :

Scénaristes :

Classement dans Le Top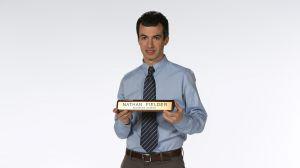 Saison 4
Saison 3
Saison 2

Saison 1

Special

Cette fiche a été vue 6043 fois depuis le 28/04/2014
Dernière mise à jour de cette fiche le 01/12/2017 à 12:35