Chercher

Connectez-vous pour noter cette série.
Genre :
Drama
SF / Fantastique
Mystère
Sortie en
2016
- Statut :
Renouvelée

Dernier épisode : 2x09 - A été diffusé le 27/10/2017
Quand un jeune garçon disparaît, une petite ville découvre une affaire mystérieuse, des expériences secrètes, des forces surnaturelles terrifiantes... et une fillette.
News :
Posté par
ricorod
à 19:10 le 01/12/2017
Posté par
Caféine
à 15:51 le 23/08/2017
Et ce sera(it) la dernière
.
They do confirm there will be a season three and, in all likelihood, one more beyond that. "We're thinking it will be a four-season thing and then out," says Ross.

Vidéos :
Saison 2
Vidéo postée par
☺
et associée par
Caféine
Casting :





Réalisateurs :

Scénaristes :

Classement dans Le Top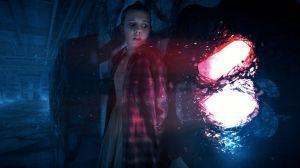 Saison 3
Saison 2
Saison 1

Special

Cette fiche a été vue 22630 fois depuis le 18/01/2016
Dernière mise à jour de cette fiche le 17/01/2018 à 12:54