Chercher

Connectez-vous pour noter cette série.
Sortie en
2016
- Statut :
Renouvelée

Dernier épisode : 2x07 - A été diffusé le 08/08/2017
Carolyn Taylor, Meredith MacNeill, Aurora Browne and Jennifer Whalen star in this six episode series that takes a comedic look at our narcissistic contemporary culture. Fast paced and irreverent, Baroness von Sketch Show is a single-camera comedy, shot on location, that offers a witty take on everyday concerns. From the politics of ordering a coffee to entitled coworkers to open relationships, this satirical sketch show holds a fun house mirror up to modern life.
Liens
:
TheTVDB
Casting :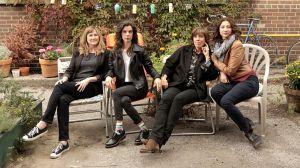 Cette fiche a été vue 1450 fois depuis le 15/06/2016
Dernière mise à jour de cette fiche le 07/08/2017 à 15:13