Chercher

Connectez-vous pour noter cette série.
Sortie en
2016
- Statut :
En cours

Dernier épisode : 2x09 - A été diffusé le 21/11/2017
Prochain épisode : 2x10 - Sera diffusé le 28/11/2017
The funny, heartfelt story of The Kims, a Korean-Canadian family, running a convenience store in downtown Toronto. Mr. and Mrs. Kim ('Appa' and 'Umma') immigrated to Toronto in the 80's to set up shop near Regent Park and had two kids, Jung and Janet who are now young adults. However, when Jung was 16, he and Appa had a major falling out involving a physical fight, stolen money and Jung leaving home. Father and son have been estranged since.
Liens
:
TheTVDB
themoviedb.org
TVMAZE

Sujets de discussions :
Casting :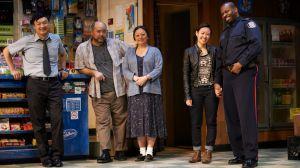 Cette fiche a été vue 3734 fois depuis le 28/08/2016
Dernière mise à jour de cette fiche le 02/11/2017 à 20:56