Chercher

Connectez-vous pour noter cette série.
Dernier épisode : 16x18 - A été diffusé le 08/03/2019
Saison 16 : (aka series/season P) - 18 épisodes
Saison 17 : (aka series/season Q) - commandée (automne 2019)
QI is a BBC panel show that both educates and entertains. QI Masters Stephen Fry [Seasons 1-13] and Sandi Toksvig [Season 14+] ask questions that are very difficult and award points for answers that are either Quite Interesting or correct. However, points are deducted for answers commonly thought to be correct but are in fact quite wrong. Four Bantermeisters, including permanent panelist Alan Davies, try their best to separate the fact from the fiction.
Site officiel
:
Site Officiel
Liens
:




comedy.co.uk
Sujets de discussions :
News :
Posté par
Caféine
à 10:58 le 03/03/2018
La BBC Two a renouvelé
QI
(
Quite Interesting
) pour une saison P (la seizième).

We're back and filming QI Series P, and there's still some tickets available for todays's recordings. If you can travel to London, then get yourself some tickets to join us in the studio for FREE! https://t.co/IpS1jzJQ2c Use PROMO: Elves

— Quite Interesting (@qikipedia) 1 mars 2018

Casting :

Host (Season 14-Present) :


Guest stars :

Réalisateurs :

Scénaristes :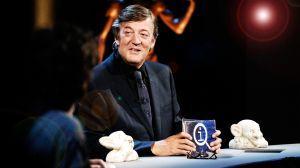 Saison 17
Saison 16
Saison 15

Saison 14

Saison 13

Saison 12

Saison 11

Saison 10

Saison 9

Saison 8

Saison 7

Saison 6

Saison 5

Saison 4

Saison 3

Saison 2

Saison 1

Spécial

Cette fiche a été vue 2547 fois depuis le 13/12/2017
Dernière mise à jour de cette fiche le 26/02/2019 à 18:14
Dernière modification manuelle de cette fiche le 10/09/2018 à 10:15 par
Caféine
-
Historique des modifications