Search

You have to be logged to rate this tvshow
Genre:
Action
Adventure
Animation
Last episode : 3x13 - Aired on 2019-01-25
Next episode : 3x14 - Air on 2019-07-02
Season 3: Young Justice: Outsiders - 2 x 13 épisodes- reprise le 2 juillet
The series follows the lives of teenage heroes and sidekicks who are members of a fictional covert operation group referred to simply as "the team." Young Justice is essentially a young counterpart to the famous adult team, the Justice League. The main setting is a fictional universe apart from the previous DC Animated Universe (and other continuities) during a time period in which superheroes are a relatively recent phenomenon.
Official website
:
Site Officiel
Links
:




Casting:


Barbara Gordon / Batgirl / Oracle:
Brion Markov / Geo-Force:


Dick Grayson / Robin / Nightwing:
Guest stars:

Directors:

Writers:

Position in the Top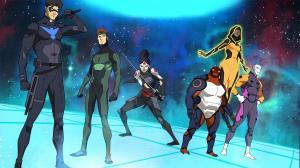 Season 3
Season 2
Season 1

Special

This page has been seen 12268 times since the 2010-12-26
Last update of this page on 2019-06-02 at 08:15
Last manual modification on 2019-01-26 at 05:33 by
Caféine
-
Modifications history